For more information about Alfa Laval, please drop us an email at abset@abset.com
A pump trial arranged by an Asian distributor and supported by Alfa Laval led to an order for more than 60 Alfa Laval LKH pumps by a leading food and beverage producer. Trials are a good option for channel partners looking to generate more business.
A case story from Vietnam demonstrates just how successful trials can be. Alfa Laval channel partner ABS Engineering & Trading Sdn Bhd (ABS) based in Malaysia and Vietnam Pump Solution Company Ltd (VPS), based in Ho Chi Minh, approached a large Vietnamese food and beverage producer considering replacing pumps supplied by another manufacturer. In conjunction with Alfa Laval, VPS initiated a pump trial at one of its factories.

"Depending on the potential of the customer, we offer the option of arranging a trial at a customer's facility in conjunction with the channel partner," says Tuck Sing Chow, Alfa Laval's Regional Manager for South East Asia (SEA) in Bangkok, Thailand. "A trial gives the customer the opportunity to see the equipment first-hand, rather than looking at a data sheet, and this makes them more confident about choosing it."
Capitalize on Alfa Laval's reputation
Tuck Sing Chow believes the trial was the key to making a breakthrough because in the company's previous set-up, they were using a competitor's pump. Alfa Laval's reputation helped because the company is well known in the food industry for hygienic solutions that provide reliability as well as cost and energy savings.
Following the trial, orders were placed for more than 60 Alfa Laval LKH pumps, 6 MR pumps, 14 SolidC pumps, 32 units of TJ20G Rotary Jet Heads, about 5,000 metres of tubes, and about 800 valves.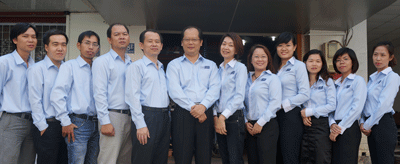 Channel partners in South East Asia receive strong support with technical know-how and technical service from Alfa Laval's hub in Thailand. For example, Alfa Laval and VPS share market information and organise joint customer visits.

Chokanan Chantree, Technical Support Specialist at Alfa Laval South East Asia (SEA), visits the above-mentioned large food and beverage customer in Vietnam together with VPS to review the customer's needs. He says: "Visiting the customer on a regular basis means we can be the first to pick up their enquiries about new orders."
Want to arrange your own trial?
Contact us now whenever you see the opportunity to arrange a trial in your local market. We are ready to support channel partners with trials and sales visits depending on the potential of the customer.